Emmons Ranch was established in 1909, on the Mizpah Creek, near Olive, Montana. From a humble beginning, our family was able to make a living in this southeast corner of Montana and slowly add other homesteads in the area, to start building a ranch. Over 100
years later, our family is fortunate to call this land home, and have the fourth, fifth, and sixth generations of our family living here today.
In the very early years of the ranch, several different types of livestock were raised, but cattle were destined to be our main business. Starting with Herefords, like many people in the area, it was soon determined a new breed needed to be introduced to improve the cattle on the ranch, and to help market animals to other producers. To make that improvement, the decision was made in the late 1960s, to start raising Simmental cattle. In the spring of 1969, the first cows were artificially inseminated to the Simmental sire Bismarck. From this point forward, a purebred Simmental herd was created, and over the years animals from Emmons Ranch were sold throughout the United States, Canada, and into Mexico. Performance was closely tracked for the Simmental breed, and cows were ranked by the American Simmental Association (ASA) based on their individual performance data. This was important, because it was a way to help track improvement in our cows, and measure them against Simmental cows from across the nation. Through this program, the ASA recognized Emmons Ranch for producing the first Superior, and first Elite Simmental cows in America. Emmons Ranch was also recognized with the Golden Book Award, in 2005, from the World Simmental-Fleckvieh Federation. This award is given to individuals or organizations that have made significant contributions to the development of the Simmental breed.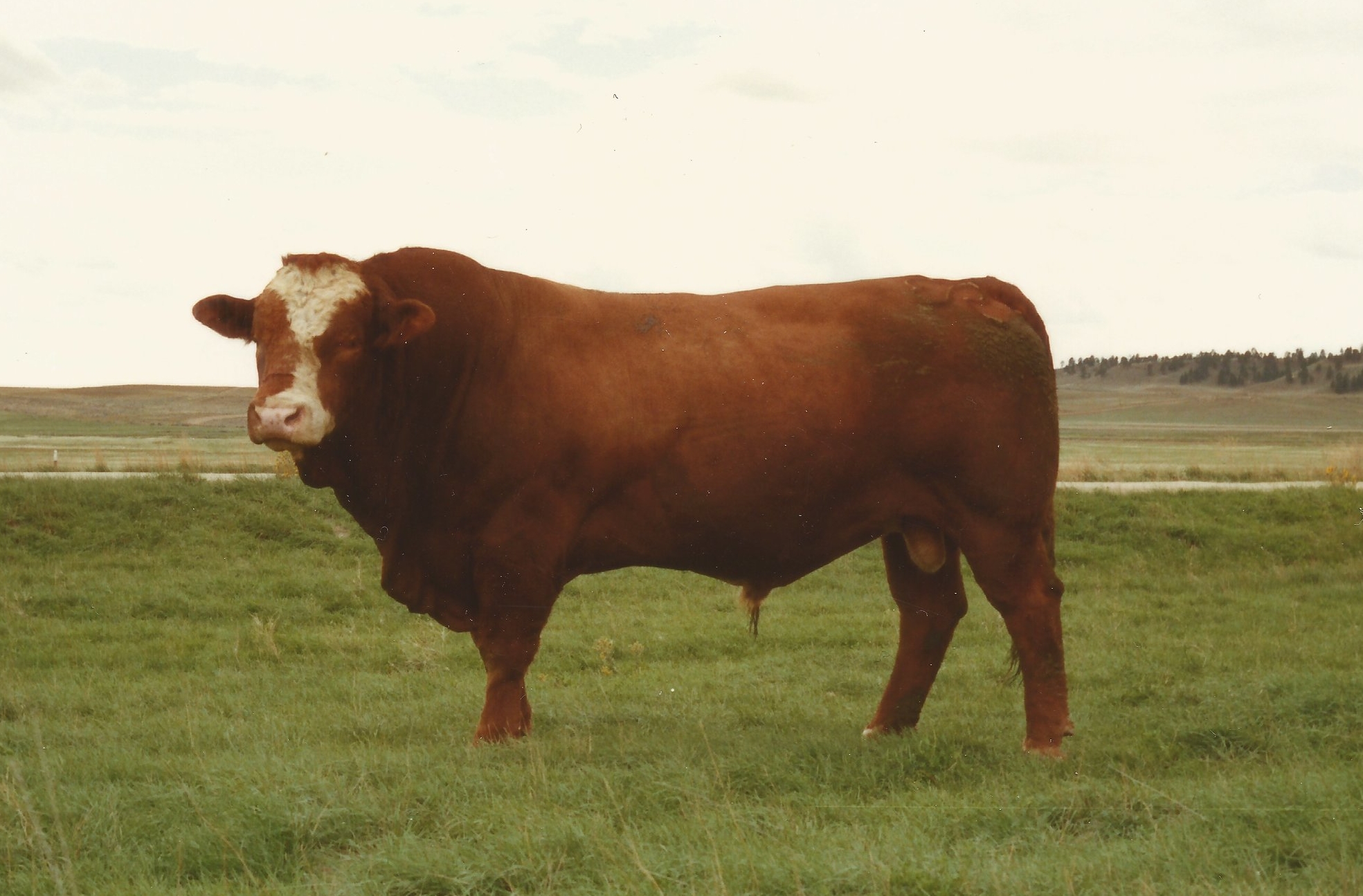 Then, during the transition to produce solid red Simmental cattle, and polled, solid red Simmental cattle, many outstanding animals were bred at Emmons Ranch. Hercules 538P was one of the first widely used solid red sires in the Simmental breed, and helped Emmons Ranch gain a foothold as a seedstock producer. Through his line, the most well known sire produced at Emmons Ranch was ER Big Sky 545B, born in 1992. Big Sky was a solid red, polled bull that
has been used extensively in the Simmental breed. Big Sky has thousands of progeny throughout the United States and Canada, with over 6,200 of his calves recorded with the ASA.
Purebred Simmentals were produced for several more years, and then, in an effort to serve more local cattle producers, and to improve our herd, Angus sires were introduced in 2003, to give us our first SimAngus™ cattle. These cattle indeed improved our herd, and have helped our transition to a predominantly black herd. These SimAngus™ cattle continue to produce some of the most functional animals to be bred at Emmons Ranch. As we move into the future, SimAngus™ and purebred Simmental cattle will both be bred and developed at our ranch.
Like us on Facebook to keep up to date with all the happenings on the ranch!